Why buy silver bullion?
Silver bullion is an excellent investment choice for those looking to diversify their investment portfolios and protect against economic uncertainty.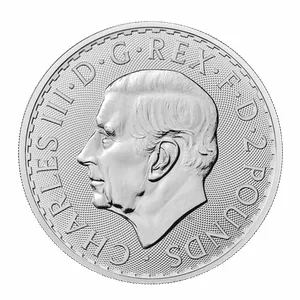 ---
Silver is a durable, liquid asset with a long history of value and stability, making it ideal for many investors. It's also relatively affordable compared to other precious metals like gold and platinum, which makes it easier for smaller investors or those on a budget to get started investing in silver.

A solid investment choice
Buying physical silver bullion allows you to store your wealth outside of the banking system and without relying on paper money. Purchasing silver coins or bars from a reputable dealer means any gains you make will be protected from market volatility and unpredictable currency movements.
---
Many people buy silver coins or bars as a form of insurance against economic and political instability. In the past, silver has been used to hedge against inflation, currency devaluation, and other potential risks that could come with investing in stocks or bonds. Holding physical silver is also a great way to diversify your portfolio and protect your wealth in times of uncertainty.
---
Buying silver bars can be an especially attractive option for investors looking to maximize the value of their purchase. Silver bars are typically less expensive than coins, and they come in larger sizes that can provide a greater return on your investment. Plus, silver bars are globally recognized as a form of currency, making it easier to trade them on the open market if necessary. They also require less storage space than coins, for those who want to keep their investments more compact.
---
Silver bullion and UK Tax  
Certain types of gold and silver coins are treated as legal tender and therefore not subject to capital gains tax. The silver Britannia, minted by the Royal Mint, is free from CGT for UK citizens and any amount can be bought and sold without incurring the tax, depending on individual circumstances. CGT to payable on gains made from other forms of silver including silver bars.   
VAT on Pure Silver Investments 
For those looking to invest in silver bullion in the United Kingdom, it's important to know that Value Added Tax (VAT) applies to all silver bullion. This is a sales tax levied on goods and services within the European Union (EU). In the UK, VAT is charged at 20%. Therefore, if you buy silver coins or bars in the UK, you will be required to pay an additional 20% on top of the price of your purchase.
VAT free Silver investment if you don't take delivery  
If you don't need to take delivery of your silver bullion, you can store your silver purchase in a secure allocated and segregated vault outside of the UK or EU. By investing in this way, no VAT will be charged on your purchase and you'll still be able to sell it on when you want to liquidate your investment.

Finding a reputable dealer
When buying silver bullion, it's important to find a reputable dealer who you can trust, one who is reliable and has experience in handling precious metals. They should also have a good knowledge of the silver market and be able to provide you with information on what is available so you can make an informed choice about your investments
Our credentials
The Pure Gold Company can help you find the right silver bullion for your needs. We offer competitive prices, secure storage solutions and reliable customer service. If you purchase your silver through us, we also offer you a buy back guarantee. With the right research and due diligence, investing in silver bullion can be a smart move for any investor looking to ensure their long-term financial security.
---
Discover all there is to know about buying gold for investment
---
Our free Investor Guide will reveal:
How to invest in gold and silver
Timing & pricing considerations
Our buy back guarantee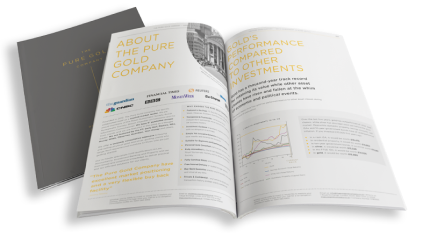 ---
Discover all there is to know about buying gold for investment
---
Our free Investor Guide will reveal:
How to invest in gold
Timing & pricing considerations
Our buy back guarantee