2022 was a very volatile year for the global economy, and the outlook for 2023 is not hugely optimistic either.
Years of accumulated government support, from quantitative easing post the Global Financial Crisis to bailouts and pandemic handouts, have flooded the economy with money and caused a major inflation crisis.
The Russia/Ukraine war compounded the issue, leading to economic contractions, recessions and substantial volatility in the markets.

---
The outlook for 2023 is very subdued. Inflation is not yet under control, the UK may swerve a recession but any growth is expected to be very muted, the property market is on a downward trajectory and the markets are extremely uncertain. In this environment, gold comes into its own – as a safe-haven asset that tends to increase when other assets are declining, and as a relative hedge against inflation. There will be many opportunities to invest in undervalued assets when the markets bottom out, and gold is more likely to hold its own or increase in the current climate while any liquidity held in cash will immediately lose value.
A historic global currency
Gold's rarity and immutability are the key reasons behind its abiding value. It is estimated that over 200,000 tonnes of gold has been mined throughout all human history, which sounds like a lot but would actually only fill between three and four Olympic swimming pools when melted down. The World Gold Council estimates there are only around 50,000 tonnes of proven reserves left in the ground.
This rarity underpins its value, and gold has been traded as a form of currency for thousands of years. In fact, seventeenth-century goldsmiths were responsible for creating the banking industry as we know it today. Central banks and countries are duty-bound to hold a certain percentage of their wealth in gold, in order to protect themselves from financial risk.

Can't find what you're looking for?
Take a look at our beginner's guide or get answers to some of the most commonly asked questions
A powerful asset for the future
---
Buying gold is a great investment for the long term and remains the best performing asset of the 21st century, rising almost 700% since 2000*. Central banks are buying up gold to shore up reserves, and demand remains well-balanced and on a long-term upward trajectory.

Gold investment is a safe haven asset that can protect your wealth for the future.
*Compared to UK house price index, 10-year government bonds, the FTSE 100 total return, and cash ISA interest rates.
Reasons to invest in gold
---
£
2,819,173,219,402
THE UK GOVERNMENT DEBT TOTAL
Markets were very volatile throughout 2022 and that trend has largely continued into 2023.
Few market commentators would be comfortable calling the bottom with so much uncertainty ahead, so 2023 looks to be offering up more unpredictability. Physical gold has always been a safe -haven asset that tends to increase in value as more and more people insure their wealth against financial risk.
Compared to savings
Central governments around the world have begun to increase interest rates in an effort to stem the tidal wave of inflation. Some of this has been passed onto savers, but none of it is enough to protect savers from eroding the value of their deposits. With inflation above 10% and savings rates between 1.5% and 4% depending on access restrictions, the value of your money will be lower when you take it out. Gold has historically hedged against inflation risk, and allowed investors to retain buying power, although past performance is not a guarantee of future results. Unlike cash in the bank, at the very least it doesn't guarantee a loss of value.
Compared to property
The property market in the US has been on the slide for most of 2022, as interest rates started to rise earlier than other international markets. Now that the UK is catching up (interest rates have risen to 4.5% from 0.25% in december 2021), mortgage rates are heading up too, and it's causing a squeeze in the UK property market. In december 2022, UK house prices were recorded falling at their fastest rate since the property crash of 2008. Interest rates are expected to rise further, and without a resolution to the cost-of-living crisis and a rebound in the economy, homeowners will struggle to pay their mortgages and new buyers will struggle to step into the market. The Office for Budget Responsibility predicts house prices will fall by 10% by 2024.
Compared to bonds
Government bonds are viewed as risk-free but consequently, return small but steady interest. Corporate or foreign government bonds can deliver higher returns but come with commensurate risk. Since 2000 gold has substantially outperformed government bond yields. And where the idea of bond safety has been called into question during the bond rout of 2022, the risk-free allure is somewhat tarnished. Importantly, bonds have a fixed maturity, tying your investment up in the asset until this date, whereas gold can be liquidated anytime. 
Tax on savings
---
We all have to pay tax on our income, including any gains we make on investments, such as savings, equities, bonds and property – but physical gold is an exception. When you invest in investment-grade tax-free gold,  you can legitimately avoid paying tax on your gains, depending on individual circumstances (and this tax treatment may be subject to change in the future).
It's a very similar product to an ISA but with no restrictions and no penalties on early liquidation. Furthermore, you are able to keep and control your investment. Many people use physical gold as an efficient form of tax planning, to minimise inheritance tax too.
Global instability
---
The past year has once again been characterised by extreme uncertainty. Globalised and interconnected markets have experienced intense volatility, and there has been a prolonged effect on the social, political and economic environment. The post-pandemic recovery has well and truly stalled, inflation remains stubbornly high, and economic progress has evaporated. In this fraught economic environment, safe-haven gold is a highly sought-after investment for any balanced portfolio.
Having thoroughly researched the gold investment market I found The Pure Gold Company. Their consultants were knowledgeable, transparent and kept it all very simple. My gold arrived the next day and I'm now discussing options for silver storage. I highly recommend them.
Oliver Shipton, Partner at Lee & Thompson LLP
I chose The Pure Gold Company due to the good reputation they have dealing with the less experienced investor such as myself. I feel their reputation is well deserved. I was kept informed, anything I didn't understand was explained well. I have no reservations in recommending The Pure Gold Company to those looking to buy gold or silver.
Charles Campling – Police Officer – Surrey Police Service
I found The Pure Gold Company knowledgeable and trustworthy and in my opinion wouldn't hesitate to recommend them.
Sir Geoffrey Leigh – Property Entrepreneur
These guys were patient and seemed to understand my situation well. They weren't pushy or salesy and gave me all the facts so that I could make my own decision. I was surprised at how straightforward they made the process and would certainly recommend The Pure Gold Company to anyone looking to buy gold or silver.
Annabel Bartfeld – Ambassador For Great Ormond Street Hospital
A friend recommended The Pure Gold Company, as they have a reputation of assisting beginners, they were fantastic. They explained in detail how it all works and what options would best suit our circumstances. They guided us on timing and saved us 6% by waiting a couple of weeks.
Racheline Natalie Michaels – Director, Hexagon Of Highgate Ltd
The Pure Gold Company offers a uniquely consultative approach to purchasing and selling physical gold and silver, regardless of how much you are looking to invest.
We pride ourselves on our simple and tailored strategy, working with beginners and experienced investors alike, to find the precious metal investment that will benefit them most.
Whether you are looking to convert personal savings or part of your pension into physical gold or silver, we can provide a tax-efficient solution.
In addition, our Buy Back Guarantee means your gold and silver investment is as liquid as the cash in your bank account.
---
Discover all there is to know about buying gold for investment
---
Our free Investor Guide will reveal:
How to invest in gold
Timing & pricing considerations
Our buy back guarantee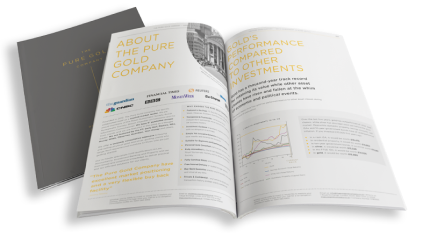 ---
Discover all there is to know about buying gold for investment
---
Our free Investor Guide will reveal:
How to invest in gold
Timing & pricing considerations
Our buy back guarantee