Gold investment offers both a way to grow and protect your wealth. For those new to gold or perhaps any form of investment, read on to find out how it works.
WHAT IS GOLD INVESTMENT?
Investment is the act of spending money on something with the understanding that it will pay out more money in the future. Investment can get very complicated, but really the act is as simple as that.
Anything with the potential in increase in value over time can be used as an investment. Gold's price fluctuates in the short term, but in the long term it has always grown and outperformed other asset classes like equities, inflation and property. When people invest in gold they purchase an amount of pure, physical gold, and either keep it themselves or in official storage facilities.
---
WHY INVEST IN GOLD? THE BASICS
---
VALUE
Gold is valuable for a number of reasons. It's very rare and finite, with some estimates suggesting that just a single Olympic swimming pool's worth exists in the entire world. It's also extremely stable, able to last for an extremely long time without corroding or being spoiled.
While new gold is mined regularly major gold producing nations make less than 500oz of gold per year, and much of that is used for jewellery or industrial purposes.
This means that there will never be enough gold for everyone, and gold that exists is not going to decay or be destroyed.
Physical gold has an intrinsic value. Therefore unlike equities or digital currencies, its value can never fall to zero. It will always be worth the cost of extracting it from the ground. For this reason, gold has always been used as a store of wealth especially during uncertain times.
---
INFLATION BENEFITS
Although its price changes, one of gold's principle advantages is that it's a way to keep your money safe from inflation.
The UK is one of the only countries in the world where wages are falling and the economy is growing, and inflation is rising rapidly as a result, meaning that sums of money will become worth less and less in real terms as time goes on.
Worse, interest rates remain low, which means that most sums of money in most banks do not gain value in real terms. Gold, on the other hand, holds a consistent value, meaning that you will still be able to exchange it for a reliable amount of money no matter the inflation rate.
If you take an ounce of gold and a £20 bill in 1920 both are worth the same and could buy a designer suit. If you fast forward to today's value of currency, £20 will barely cover the train ticket to purchase this suit however an ounce of gold is worth close to £1,000 an ounce. Can see how gold maintains its value and purchasing power over time (as opposed to holding cash)?
---
LOW RISK
Gold investment helps preserve your wealth and insulate it against risk, making it invaluable for trying economic times like these.
Whenever the Fear Index rises, major political events rock the economy or banks look unsteady on their foundations, gold demand begins to rise and investors begin scrambling to add it to their portfolios to ensure they still have a secure base to invest from.
As a result, gold makes a reliable low-risk investment.
---
TAX BENEFITS
Physical gold for investment purposes comes with a number of tax advantages that make it an excellent way to invest your gold. Gold coins that qualify as UK legal tender are exempt from Capital Gains tax, while gold is also available VAT free.
Gold may hold other tax advantages in other countries, but in the UK it is an old and well-respected way to invest your money in a way that maximises the retention of your investments.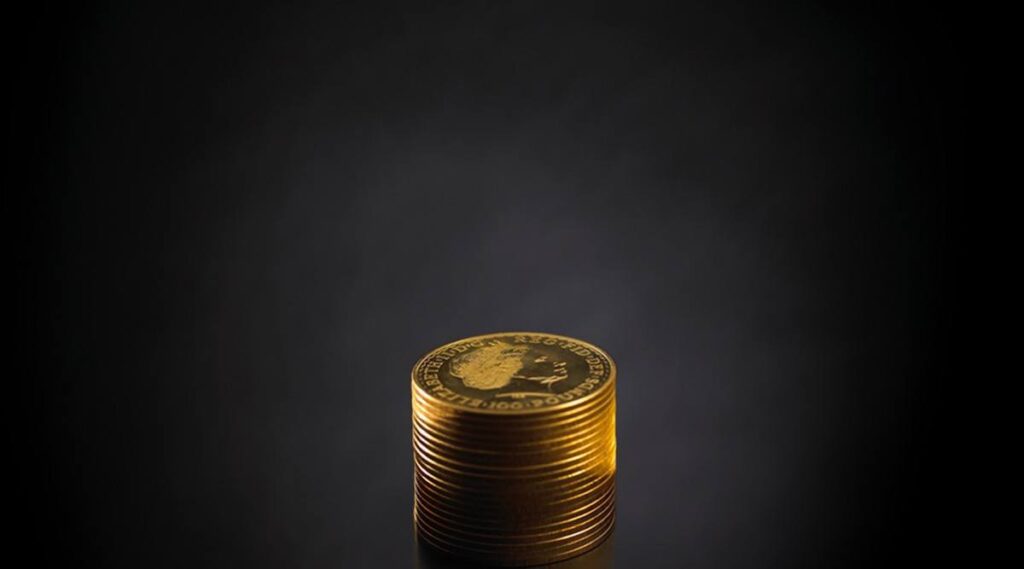 INDIVIDUAL GOLD INVESTMENT
For individuals, gold investment is often a way to save for retirement, secure one's hard-earned wealth for later use or simply a hassle-free way to store money somewhere that isn't prone to bank failures. To invest in gold you need a gold dealer or gold broker who has a good reputation and track record.
Fortunately, some brokers like The Pure Gold Company offer a complete-package deal including guidance and consultation on your gold investment, complementary storage and delivery and a wide variety of investment options, not to mention high-quality gold, making them a preferable option.
Individuals can invest in physical gold directly, and store it until they need the money (at which point the Pure Gold Company's buy-back guarantee kicks in, and they can easily liquidate it for cash).
Gold is also available as a component for Self Invested Personal Pensions or SIPPs, and as a regular pension investment to preserve wealth gained early in your career for retirement.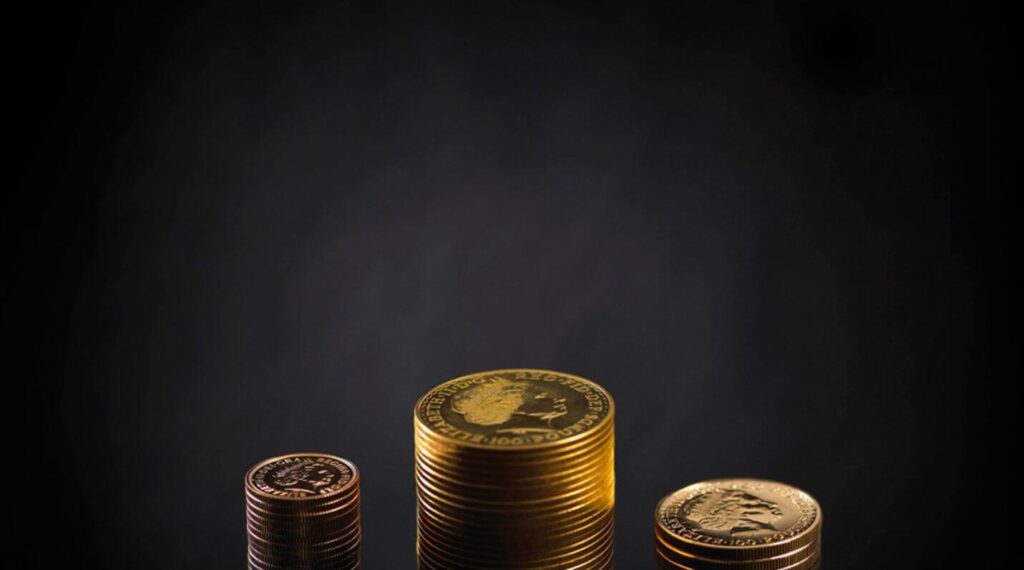 PROFIT-FOCUSED GOLD INVESTMENT
Investing in gold is simple and straightforward. If you believe there is geo-political, financial or monetary uncertainty ahead of us then investing in gold will provide financial protection while other investments like cash in the bank, equities, property remain exposed and at risk. The gold market has shown considerable growth but can fluctuate, and knowing when to invest and when to liquidate is crucial.
In practical terms, gold has seen the highest consistent rise in value over the last ten years of any investment, including stocks, shares and property and has grown more than 230%. The value of an average gold investment has risen more than 50% since 2015, and with Morgan Stanley and Citigroup predicting an equity and property downturn over the near term, experts believe we are likely to see gold behave as it did between 2008 – 2012 where it increased by more than 300%.
The challenging global political and economic situations that are currently discouraging investment across the West (European bank crises, an uncertain Brexit and the Trump administration) mean that other investors are looking to gold more frequently to secure their finances and ride out potential inflation, which in turn means that demand is set to remain high.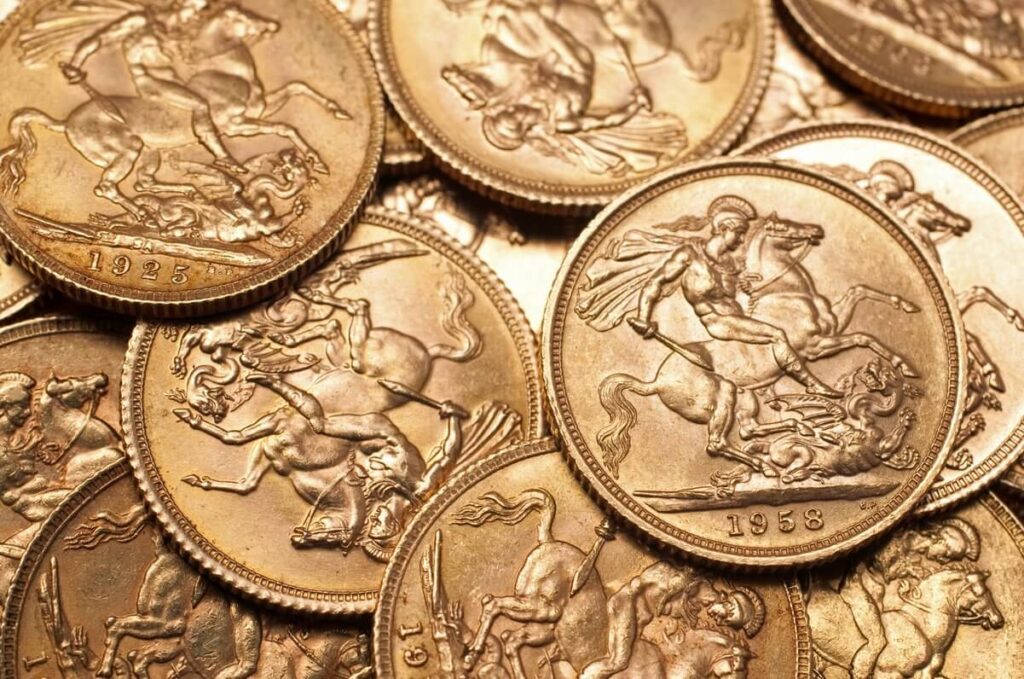 HOW TO INVEST
Adding gold to your portfolio couldn't be easier with The Pure Gold Company. Download an investor guide and then contact one of our representatives for a consultation.
Having spoken to us and once you've decided how much you feel comfortable investing in gold, you will sign an online purchase order where you will specify your requirement for storage or delivery.
You can then make payments via bank transfer (or debit card for certain smaller orders). Once your gold is on its way, you may then selected between our fully tracked and insured delivery service to a location of your choice or storage in one of The Pure Gold Company's LBMA-approved storage vaults, secure and ready for withdrawal if necessary.
Contact The Pure Gold Company today for more information on gold investment or purchase, and start securing your finances and your future.
---
HOW TO BUY GOLD & SILVER
Our Simple 4-step process makes physical gold and silver buying easy.
---
Q & A
One of our dedicated specialists will work with you to answer any questions you have. We will provide you with factual information (benefits / drawbacks) of all available products. The length of this conversation is down to you and is an opportunity to ask us as many questions as possible. Please note we are not permitted to provide any financial advice. If you require advice we suggest you speak to a financial advisor.
---
PURCHASE ORDER
When you feel confident that you've had all your questions answered, you will be asked to complete a purchase order, which is your instruction to purchase metals.
---
PAYMENT
In order to lock in the price and complete your order, you must then make a payment, via bank transfer or personal cheque. We no longer accept any payments over the phone / card payments.
---
STORAGE AND DELIVERY
We can either deliver your gold directly to you, via our insured delivery service, or you can choose to have your gold safely stored, in a London Bullion Market Association (LBMA) vault, where your physical metals are allocated in your name and with full insurance provided.
GET STARTED
WHY US
Reputable & fully accredited
Buy-back guarantee
Fully certified metal
Free delivery or storage
Customer focussed
No hidden charges
5* independent reviews
Read more >
---
---
CHARLES CAMPLING – POLICE OFFICER – SURREY POLICE SERVICE
I decided to make my first tentative steps into investment in gold with the help of The Pure Gold Company due to the good reputation they have dealing with the less experienced investor such as myself. I feel their reputation is well deserved. I was kept informed, anything I didn't understand was explained well. I have no reservations in recommending The Pure Gold Company to those looking to buy gold or silver.
---
SIR GEOFFREY LEIGH – PROPERTY ENTREPRENEUR
I found The Pure Gold Company knowledgeable and trustworthy and in my opinion wouldn't hesitate to recommend them
---
ANNABEL BARTFELD – AMBASSADOR FOR GREAT ORMOND STREET HOSPITAL
These guys were patient and seemed to understand my situation well. They weren't pushy or salesy and gave me all the facts so that I could make my own decision. I was surprised at how straightforward they made the process and would certainly recommend The Pure Gold Company to anyone looking to buy gold or silver
---
OLIVER SHIPTON – PARTNER AT LEE & THOMPSON LLP
Having thoroughly researched the gold investment market I found The Pure Gold Company. They were knowledgeable, transparent and kept it all very simple. My gold arrived the next day and I'm now discussing options for silver storage. I wouldn't hesitate in recommending them…
---
RACHELINE NATALIE MICHAELS – DIRECTOR, HEXAGON OF HIGHGATE LTD
A friend recommended The Pure Gold Company, as they have a reputation of assisting beginners, they were fantastic. They explained in detail how it all works and what options would best suit our circumstances. They guided us on timing and saved us 6% by waiting a couple of weeks
---
---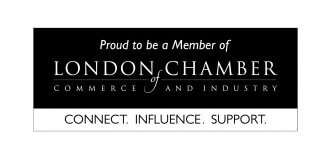 ---

---