---
Investing in UK gold coins offers something unique: tax-free investment, depending on individual circumstances, without counterparty risk. Being legal tender and a recognised form of currency, you will not have to pay capital gains tax on Royal Mint minted coins, and as a physical asset you are not exposed to the risks associated with currency and equities.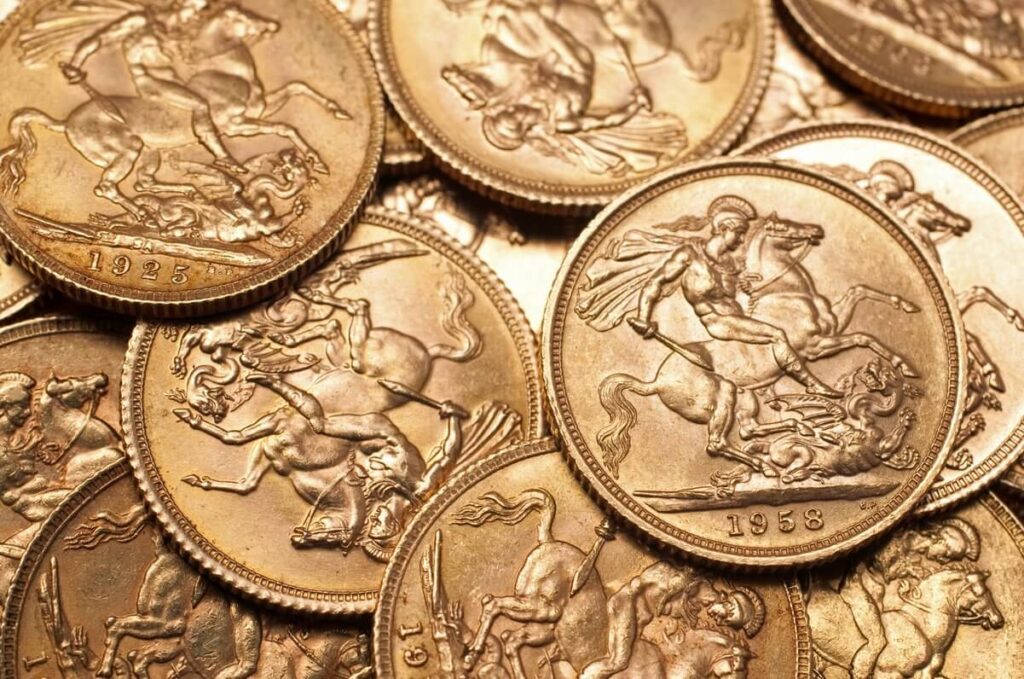 The reason UK gold coins such as the gold Britannia and the gold Sovereign are valuable today well after they were in regular circulation is due to the way the value of physical gold is used to protect wealth against uncertainty, and the fact that UK gold coins are viewed as a currency, or legal tender.
When you make gains on investing in UK gold coins, depending on individual circumstances, you won't have to pay capital gains tax – a very attractive feature for an investment.
As well as this, gold coins are divisible, meaning that they are easier to liquidate to closer denominations. This fact makes gold coins a more flexible form of investment than, for example, gold bars.
With lower costs demand is also higher for smaller coins, which can often be reflected in buy back prices.
---
GOLD SOVEREIGNS
The gold sovereign is an iconic British coin that before 1932 was fully circulated within the Gold Standard currency of the time.
• Weight of 7.99 grams.
• Contains 7.32 grams of gold.
• Diameter of 22.05mm.
• Comes in several forms, including half gold sovereign, £2 (or double) gold sovereign and £5 (or quintuple) gold Sovereign.
• Different types of sovereign bear various portraits of different British monarchs, including George V, Queen Victoria, King Edward VII and Elizabeth II.
---
GOLD BRITANNIAS
Gold Britannias have been issued by the Royal Mint since 1987.
• Contains one troy ounce of gold.
• Issued in fractional sizes of one ounce Britannia, half ounce Britannia, quarter ounce Britannia and tenth ounce Britannia.
• Gold Britannias weigh 31.04 g with a diameter of 38.61 mm.
• Britannias minted before 2013 are 22ct gold. Since then they have been 24ct.
• Britannias are also issued in silver.
---
GOLD KRUGERRANDS
A South African gold coin first minted in 1967 in order to market the country's gold.
• 33.93 g
• Diameter of 32.6 mm
• 91.67% gold
• Once accounted for 90% of global coin market.
• Since September 1990 has been available in sizes of one-half ounce, one-quarter ounce and one-tenth ounce Krugerrand.
---
CANADIAN GOLD MAPLE LEAF
A coin issued annually by the government of Canada, and classed as legal tender.
• First issued in 1979 when at the time the only bullion was the Krugerrand.
• Comes in a variety of weights, from 1 oz. to 1 g.
• Since November 1982 has had a purity of .9999.
• Some special editions of the coin are .99999 ("Five Nines").
---
AMERICAN GOLD EAGLES
The American gold eagle is an official gold bullion coin of the United States, first released in 1985.
• Comes in denominations of one-tenth, one-quarter, one-half and one ounce.
• These weights are normally specified when discussing American gold eagles, in order to avoid confusion with the "eagle", a pre-1933 ten dollar gold coin.
• Each size contains 91.67% gold, 3% silver and 5.33% copper.
---
UK GOLD QUEEN'S BEASTS
The Queen's Beasts coins are issued by the Royal Mint in gold and silver, and depict the heraldic Queen's Beasts statues representing the royal line of ancestry.
They are not legal tender, but they are valuable as collector's items or for their metal content.
• Diameter of 38.61 mm.
• Available in £100, £25 and £5 denominations.
• Composed of one troy ounce of gold, one quarter troy ounce of gold and two troy ounces of silver respectively.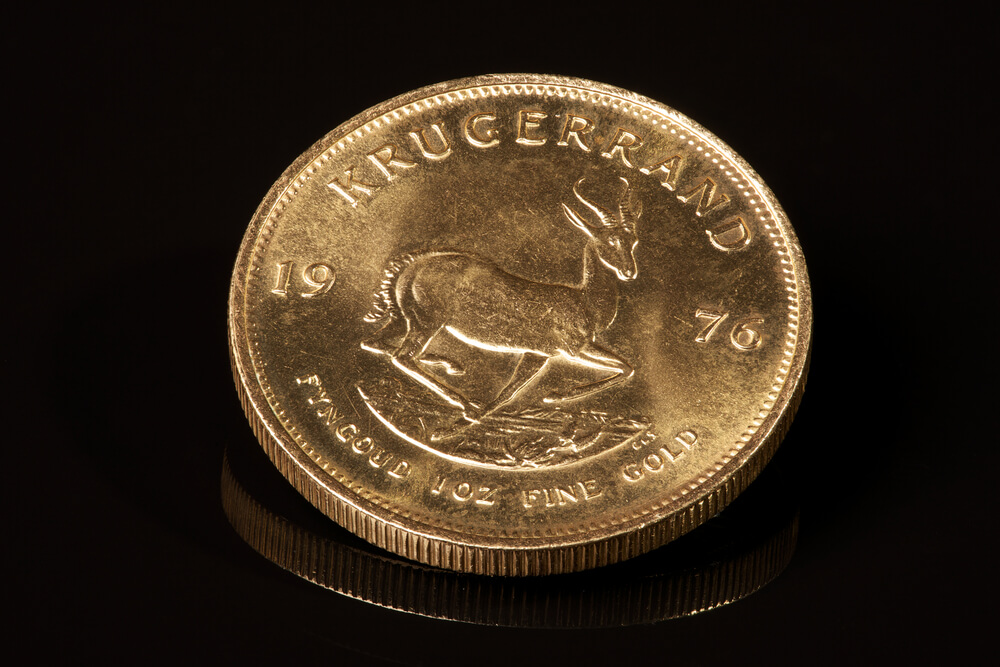 HASSLE FREE CONSULTATION
Any investment is a major decision. You want to be assured that you're investing in gold coins to your fullest advantage, whether you've invested in gold before, or looking to do the first time.
As a trusted name we are able to work with you in identifying your needs, as well as the budget that you wish to allocate, if you decide to commit to purchasing gold coins.
WHO BUYS GOLD?
While we work with many of the worlds professionals, (investment bankers, lawyers, accountant, doctors), we also attract clients from all walks of life, regardless of their level of financial proficiency.
WHY BUY GOLD COINS NOW?
Recent years have proven that, as much as we have all worked to put the global economic crisis behind us and stabilise international relations, unprecedented events can occur that unravel our expectations without warning.
When we have worked long and hard to accrue capital, it can be troubling to witness currencies fall in value, markets take unprecedented downward turns, or economic events ripple out into international dealings.
A PRUDENT INVESTMENT
As such UK gold coins allow you to protect your wealth by giving you a hedge against uncertainty and volatility.
By protecting yourself with physical, tangible UK gold coins you are able to grow your wealth in a tax free manner depending on individual circumstances, with the added flexibility of being able to sell whenever you need to.
---
GOLD SOVEREIGN INVESTMENT
Gold sovereigns aren't just aesthetically pleasing additions to a collection. They can also represent a lucrative investment opportunity and way to safeguard the future of your assets, regardless of stock market fluctuations or financial uncertainty.
---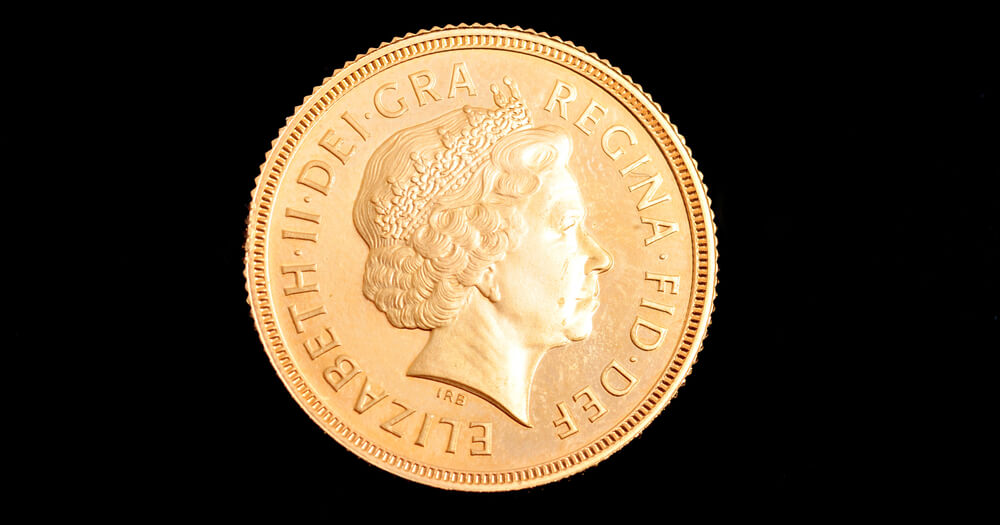 WHY GOLD SOVEREIGNS?
Gold sovereigns come in smaller denominations than other coins, meaning that smaller amounts can be purchased, which increases their demand. And, like other UK gold coins, they are tax free depending on individual circumstances.
As a result, gold sovereigns are an attractive proposition for the sensible investor and one that we at The Pure Gold Company believe represent an ideal way to safeguard your assets for the future.
SOVEREIGNS VS BARS
When it comes to choosing between investing in gold sovereigns and investing in gold bars, there really is no right or wrong answer. Whether you decide to invest in gold sovereigns or gold bars will ultimately depend on your unique circumstances and the type of investment you're looking for.
As such, every prospective investor should think carefully and look at the situation from all of the angles – which is where our team of experienced and dedicated professionals can provide invaluable insight and assistance.
TYPES OF GOLD SOVEREIGNS
The gold sovereign is an iconic British coin, that before 1932 was fully circulated within the Gold Standard currency of the time. It is now used as a bullion coin, meaning it is used as a store of value rather than in day-to-day commerce.
SOVEREIGN PORTRAITS
Different types of sovereign bear various portraits of different British monarchs:
King Edward VII (1901-1910, mintages 1902-1910)
George V (1910-1936, mintages 1911-1928, 'small head' mintages 1929-1932)
Elizabeth II(1952-, mintages 1953-1968)
Queen Victoria(1837-1901)
Victoria sovereigns are also available with Young (1838-1870), Jubilee (1887-1893) and Veiled (1893-1901) depictions of the queen.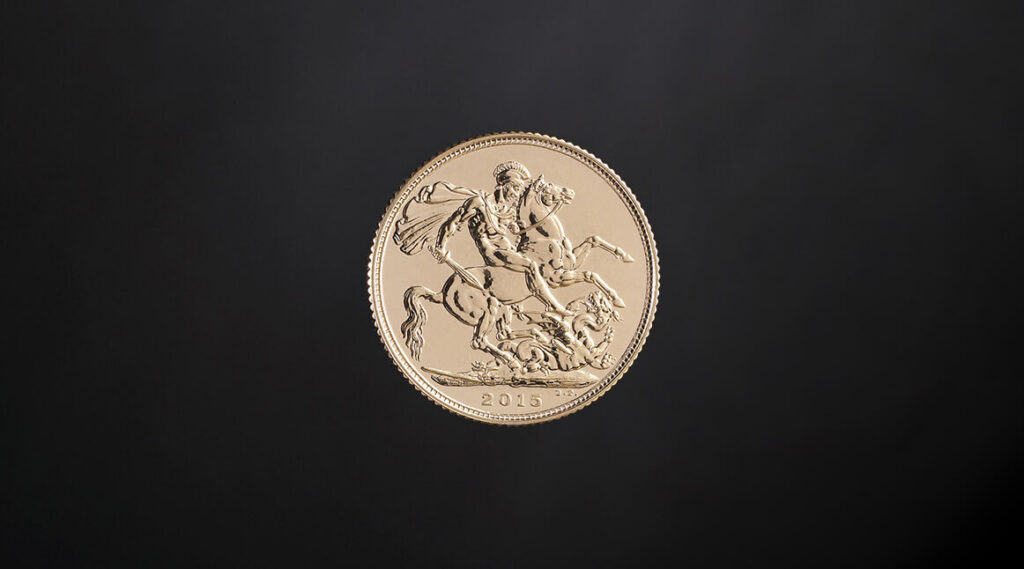 THE ADVANTAGES OF GOLD SOVEREIGN INVESTMENT
---
TAX-FREE INVESTMENT
Most important to potential investors is the fact that sovereigns minted by the Royal Mint are tax free depending on individual circumstances. As a recognised UK currency and legal tender you will not be made to pay capital gains tax as your investment grow.
---
FLEXIBILITY
Due to their smaller denominations, sovereigns are far easier to part with piecemeal when it comes time to sell them. Most gold dealers, including the Pure Gold Company, will purchase gold Sovereigns in whatever quantity you choose to sell. Bars are chunkier and as such don't offer anywhere near the same flexibility in terms of liquidation.
---
LOWER RISK
The denominations of sovereigns also allow investors to reduce their initial risk by buying smaller amounts and at different times, which means they can achieve different prices as the value goes up or down.
---
PRICE
Sovereigns are generally mass-produced using efficient techniques, meaning that you can purchase gold sovereigns at prices that are very competitive compared to bars of a similar size. Of course, this only really applies to those looking to invest in smaller amounts.
---
STORAGE
The diminutive size of sovereigns means that they can be easily stored in cases, boxes or tubes. This is especially pertinent if you wish to store them out of sight in a safe, strongbox or other secure hiding place.
---
COLLECTABILITY
While bars are purely worth their weight in gold, sovereigns have the added advantage of numismatic value. In layman's terms, this means that sovereigns that are part of a set can be an incredibly attractive proposition to a collector, adding to their value. This value can also increase over time.
---
Gold Britannia coins minted by the Royal Mint are official UK legal tender, and depict Queen Elizabeth II along with the goddess figure Britannia. They are exempt from capital gains tax depending on individual circumstances, and can be used for investment purposes in much the same way as all forms of gold bullion.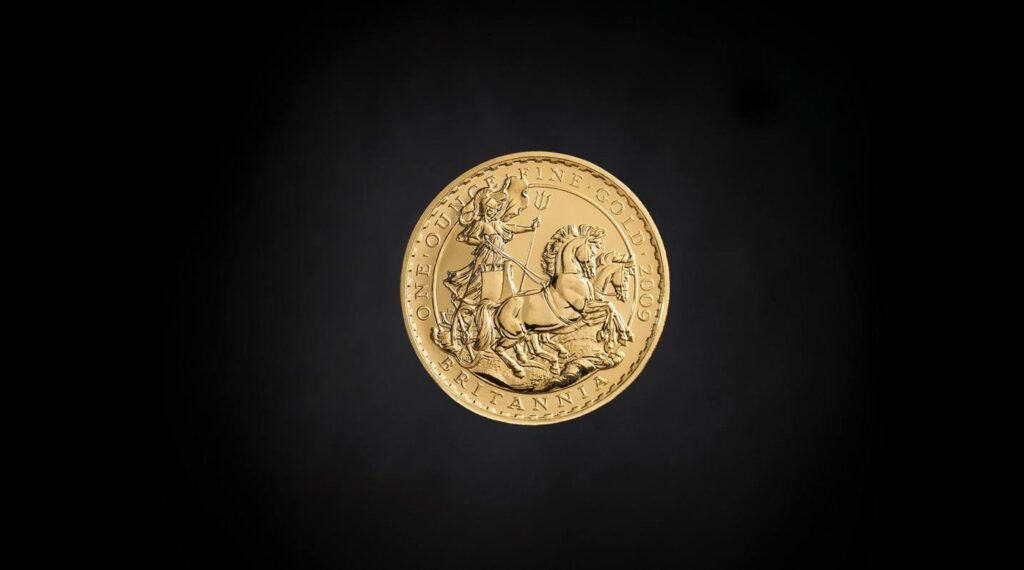 WHY INVEST IN GOLD BRITANNIAS?
Gold Britannias are also classed as legal tender, thereby making them tax free just like gold sovereigns depending on individual circumstances. This makes them a very attractive and in-demand investment opportunity.
Gold Britannias are divisible, which means they can be easily split up when selling.
All gold coins sold by The Pure Gold Company are provided with a certificate of authenticity which assures potential buyers that they are genuine.
Demand is higher for smaller gold coins as costs are lower, and this is reflected in buy-back prices.
UK gold coins like the Britannia are also free from Capital Gains Tax.
GOLD BRITANNIA FACTS
The 2015 Gold Britannia coins have a millesimal fineness of .9999 (24 karat gold). Older coins are fractionally less pure, around 91.7% gold with a copper core (in pre 1989 coins) or a silver core (in post 1990 coins). Gold Britannias are legal tender, with a face value of £100, and contain one troy ounce of gold. Although they are legal tender with set face values, most dealers will sell and purchase gold Britannias for much higher sums.
Britannias are also issued in fractional sizes:
1/2 ounce coins with a face value of £50
1/4 ounce coins, face value £25
1/10 ounce coins with a face value of £10
5 ounce coins, with a face value of £500 (introduced 2013)
1/20 ounce coins with a face value of £5
It should be noted when purchasing gold Britannias that the true value of these coins are much greater than their face value.
Silver Britannias were introduced in 1997 and contained 95.8% silver. In 2013 new Britannias were minted that contained 99.9% silver, making them superior for investment. Since that mintage, Britannias have been minted according to demand, meaning that a large supply is present in the market.
Some 2014 Silver Britannias struck with the incorrect obverse (known as "mule Britannias") are collectors' items, fetching high premiums on online auction sites.
One-ounce Silver Britannia coins are also legal tender and have a face value of £2, although they are generally worth much more than that as an investment.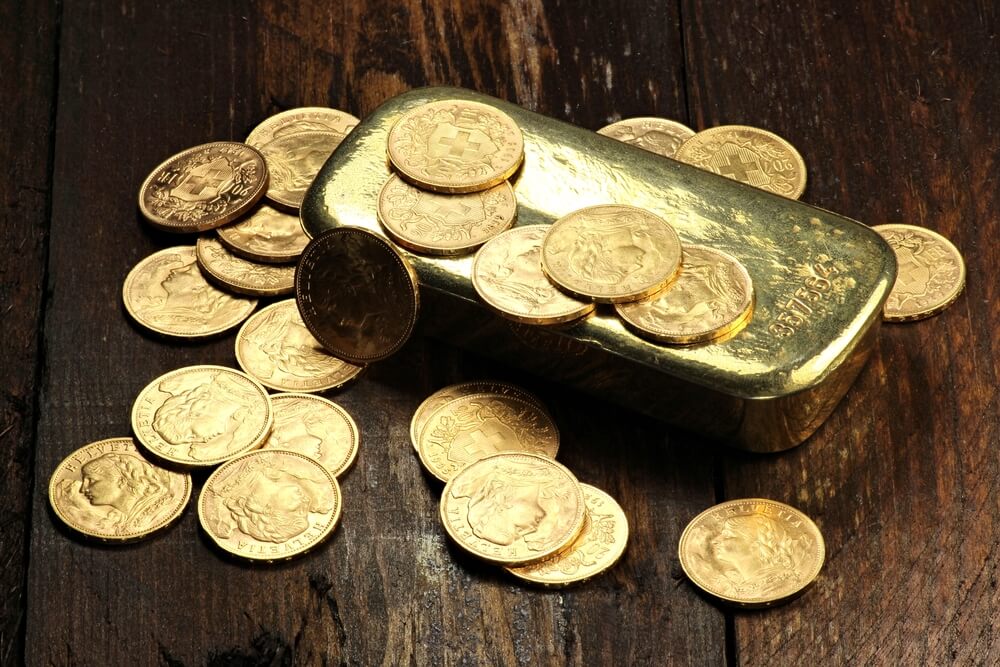 ---
INVEST IN GOLD BRITANNIAS
Royal Mint minted Gold Britannias are valued as an investment for their capital gains tax-free status, depending on individual circumstances, and easy liquidity. This makes them useful for investment, especially later Britannias that are made of higher purity gold.
They can also be bought for lower prices than gold bars and are excellent as a first-time gold investment and those seeking low premiums on a small investment. When investing in physical gold coins, Britannias are often the choice made by both new and experienced investors.
---
WHAT HAPPENS NEXT?
Following the completion of a purchase order, which exactly quantifies your investment and the amount of gold coins purchased, you receive a certificate of authenticity, which further reinforces that the metals in which we deal are of investment grade (over 22 karat).
Once payment is received, we continue to keep the channels of dialogue open with you. It's your decision whether you want us to deliver your gold coins to you, in order for you to discreetly secure them at your own residence, or instead entrust them to our registered London Bullion Market Association (LMBA) vaults . The latter options affords you full peace of mind, total security, as well as certification of insurance and a unique registration number.
---
HOW TO BUY GOLD & SILVER
Our Simple 4-step process makes physical gold and silver buying easy.
---
Q & A
One of our dedicated specialists will work with you to answer any questions you have. We will provide you with factual information (benefits / drawbacks) about all available products. The length of this conversation is down to you and is an opportunity to ask us as many questions as possible. Please note we are not permitted to provide any financial advice. If you require advice, we suggest you speak to a financial advisor.
---
PURCHASE ORDER
When you feel confident that you've had all your questions answered, you will be asked to complete a purchase order, which is your instruction to purchase metals.
---
PAYMENT
In order to lock in the price and complete your order, you must then make a payment, via bank transfer or personal cheque. We no longer accept any payments over the phone / card payments.
---
STORAGE AND DELIVERY
We can either deliver your gold directly to you, via our insured delivery service, or you can choose to have your gold safely stored, in a London Bullion Market Association (LBMA) vault, where your physical metals are allocated in your name and with full insurance provided.
GET STARTED
WHY US
Reputable & fully accredited
Buy-back guarantee
Fully certified metal
Free delivery or storage
Customer focussed
No hidden charges
5* independent reviews
Read more >
---
---
CHARLES CAMPLING – POLICE OFFICER – SURREY POLICE SERVICE
I decided to make my first tentative steps into investment in gold with the help of The Pure Gold Company due to the good reputation they have dealing with the less experienced investor such as myself. I feel their reputation is well deserved. I was kept informed, anything I didn't understand was explained well. I have no reservations in recommending The Pure Gold Company to those looking to buy gold or silver.
---
SIR GEOFFREY LEIGH – PROPERTY ENTREPRENEUR
I found The Pure Gold Company knowledgeable and trustworthy and in my opinion wouldn't hesitate to recommend them
---
ANNABEL BARTFELD – AMBASSADOR FOR GREAT ORMOND STREET HOSPITAL
These guys were patient and seemed to understand my situation well. They weren't pushy or salesy and gave me all the facts so that I could make my own decision. I was surprised at how straightforward they made the process and would certainly recommend The Pure Gold Company to anyone looking to buy gold or silver
---
OLIVER SHIPTON – PARTNER AT LEE & THOMPSON LLP
Having thoroughly researched the gold investment market I found The Pure Gold Company. They were knowledgeable, transparent and kept it all very simple. My gold arrived the next day and I'm now discussing options for silver storage. I wouldn't hesitate in recommending them…
---
RACHELINE NATALIE MICHAELS – DIRECTOR, HEXAGON OF HIGHGATE LTD
A friend recommended The Pure Gold Company, as they have a reputation of assisting beginners, they were fantastic. They explained in detail how it all works and what options would best suit our circumstances. They guided us on timing and saved us 6% by waiting a couple of weeks
---
---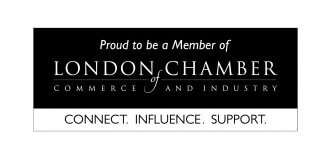 ---

---