---
Property and gold are often both considered "safe" investments, without the fluctuations of high-risk alternatives such as the stock market. So which one is best for safeguarding wealth in an uncertain world?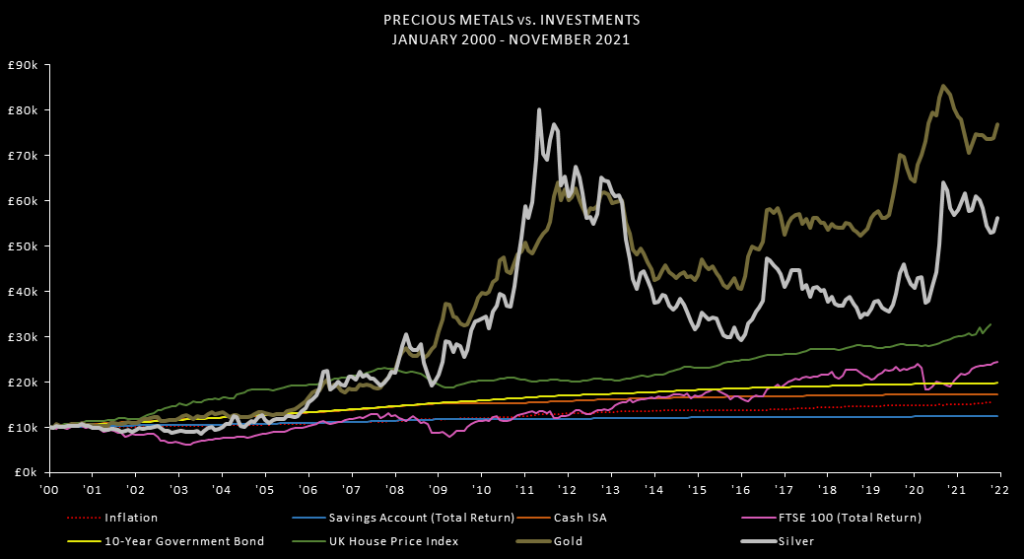 THE NUMBERS
This graph tracks how much an investment made in 2000 of £10,000 in gold or property (represented by the UK House Price Index) would be worth, tracked against inflation.
As you can see, £10k invested in gold:
would have been worth £77k in 2021, significantly more than the rise in inflation, a portfolio increase of 670%.
An property investment of £10k:
is worth £32,700 growing more than equities but substantially less than gold.
Property is often the largest investment people make in their lifetimes.
The property market has been on a steady upward trajectory since the crash of 2008, but as the crash showed, there is still the possibility of volatility even in bricks and mortar.
Meanwhile, gold has proved time and time again that it both protects against financial uncertainty and offers a real chance to grow your investment portfolio.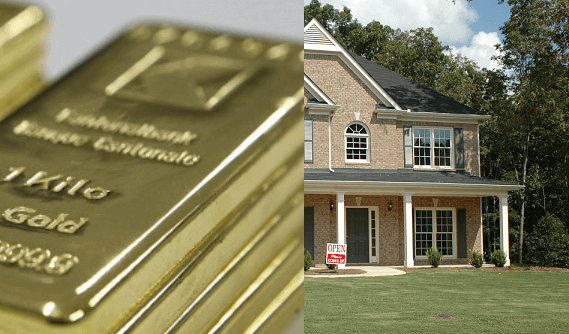 COMPARING PROPERTY WITH GOLD
---
A RELIABLE PHYSICAL ASSET
Because it is a physical asset, gold is seen as safe and reliable, and something that will never go out of fashion. This has always meant that, when the markets seem uncertain, gold tends to do well.
Property is also a physical asset and as such shares its immutability with gold. The likelihood of damage beyond repair is very small, and as property is usually the most valuable asset a person owns, it is often passed onto the next generation.
That is, when it is paid off. Mortgages last decades and are subject to the vagaries of interest rates. If the funds from a property are needed, the costs associated with liquidating the property must be taken into account.
---
LIQUIDITY
Property is a very illiquid asset. The process of selling up and releasing funds from a property can take months, or longer if there is a chink in the buying chain. There are also costs related to the sale, and capital gains taxes if selling a holiday home or buy to let property.
Gold on the other hand is always in demand and with a buy back guarantee can be liquidated very quickly, often within a day. Also gold coins minted by the Royal Mint do not attract capital gains tax.
---
RISK AND REWARD
Buying a property to live in is usually a lifestyle choice rather than an investment one – you need a place to live and it's better to buy than rent. But there are risks to buying property, including buying at the top of the market and going into negative equity if the market corrects, or taking on a large mortgage and then struggling to pay it if or when interest rates go up.
On the other hand, the risks associated with gold are much smaller. The price may fluctuate in the short term but the long-term trend is upwards, and when interest rates go up or there is an inflation squeeze, the value of gold usually goes up.
---
WHAT THE EXPERTS SAY
The outlook for property prices in the UK is mixed but some experts believe that the unexpectedly strong growth in 2021, fuelled by the stamp duty holiday, will run out of steam.
Still, even modest growth needs to keep up with inflation to maintain purchasing power which may not be the case in the forthcoming year.
Ultimately the property market is subject to many forces and impacts, from housing supply issues in certain parts of the country to availability of mortgages, and the current issue of post-pandemic building supply shortages, all of which could push or pull the property market.
---
WHY GOLD?
A proven asset in times of uncertainty
Tax efficient depending on individual circumstances
---
WHY PROPERTY?
Home ownership provides domestic security
Opportunity to build equity
Can be passed onto the next generation
Generate income from a rental property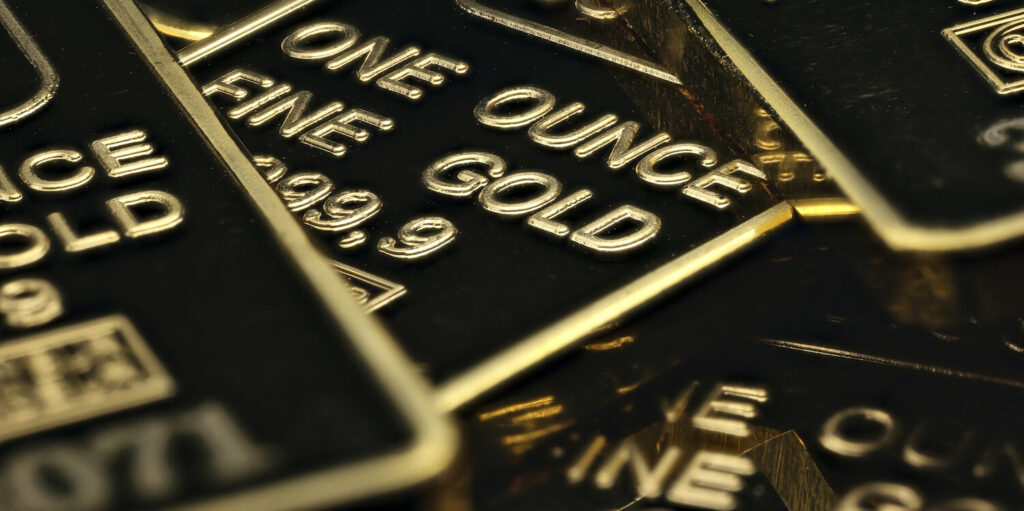 CONCLUSION: GOLD
The housing crash of 2008 was a stark reminder that property prices do not rise inexorably. Lending policies have become stricter which may cushion any fallout of a rate increase but equally limits the amount people can borrow for a home or rental property.
The illiquidity of property is its most cumbersome drawback, and while for most homeowners this never becomes a problem because they live there permanently, if there was a real need to sell it wouldn't be easy or quick.
Gold's liquidity is a key differentiator between the two investments. Small coin denominations are very easy to liquidate and even larger bars can be turned into cash within a short time, especially with a buy-back guarantee. It is portable and discreet, the antithesis of property.
INVEST IN GOLD WITH THE PURE GOLD COMPANY
The Pure Gold Company recommends gold for a variety of reasons:
Consistent value thanks to its rarity
A proven asset in times of uncertainty and crisis
A physical, tangible asset not directly controlled by banks or governments
For more information on investing in physical gold to preserve your wealth, contact The Pure Gold Company today and speak to one of our advisers. We will be on hand to guide you to the best method of gold investment, given your individual needs.
---
HOW TO BUY GOLD & SILVER
Our Simple 4-step process makes physical gold and silver buying easy.
---
Q & A
One of our dedicated specialists will work with you to answer any questions you have. We will provide you with factual information (benefits / drawbacks) about all available products. The length of this conversation is down to you and is an opportunity to ask us as many questions as possible. Please note we are not permitted to provide any financial advice. If you require advice, we suggest you speak to a financial advisor.
---
PURCHASE ORDER
When you feel confident that you've had all your questions answered, you will be asked to complete a purchase order, which is your instruction to purchase metals.
---
PAYMENT
In order to lock in the price and complete your order, you must then make a payment, via bank transfer or personal cheque. We no longer accept any payments over the phone / card payments.
---
STORAGE AND DELIVERY
We can either deliver your gold directly to you, via our insured delivery service, or you can choose to have your gold safely stored, in a London Bullion Market Association (LBMA) vault, where your physical metals are allocated in your name and with full insurance provided.
GET STARTED
WHY US
Reputable & fully accredited
Buy-back guarantee
Fully certified metal
Free delivery or storage
Customer focussed
No hidden charges
5* independent reviews
Read more >