---
Investing through an Individual Savings Accounts is a tax efficient way of growing or preserving your wealth. ISAs are easy to open and manage, but how do they compare to physical gold?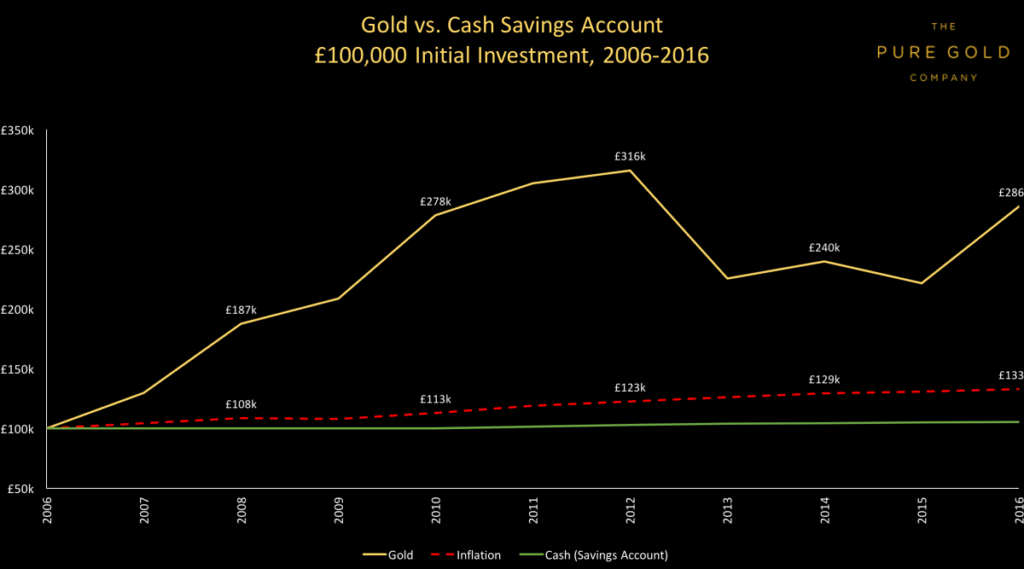 THE NUMBERS
The graph above shows gold plotted against an ISA account with an interest rate in the region of 2%, as offered by the best-paying ISAs.
On the graph we can also see inflation. £100k invested in 2006, due to inflation, needs to have the same purchasing power as £130k 10 years later. This means just to maintain the absolute value of your investment it would have to grow to £130k
GOLD: As you can see, £100k invested in gold is worth £286k today, a 186% increase in the value of your portfolio.
ISA: And £100k invested in an ISA does not gather nearly enough interest to make up for the loss in absolute value due to inflation. The actual value of your savings has decreased during this time.
Gold and ISAs are both considered "safe haven" investments, but gold has far greater built-in potential for growth. And with the financial world going the way it is, they're also no longer as safe as many people think.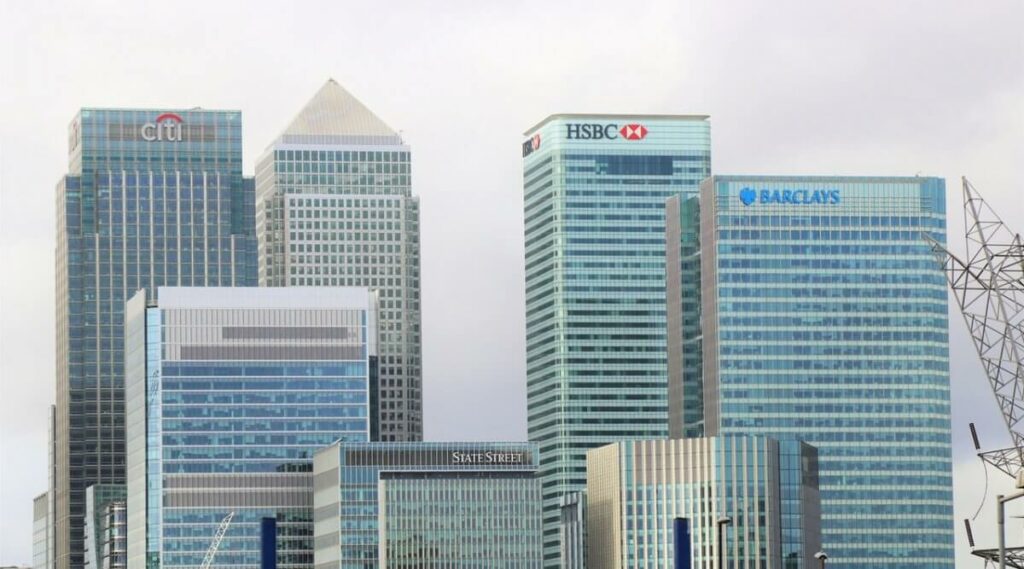 ---
TAX FREE GOLD
While it may seem that the principal advantage of ISAs over gold is their relatively low cost of entry and ease of storage, this isn't as big a bonus as it seems. With investments like The Pure Gold Company's Gold Saver, gold can be purchased in amounts suitable for smaller-scale investors.
---
TAX FREE SILVER
Tax Free Silver – Though in the UK investors are required to pay VAT on purchases of physical silver, we are able to supply physical silver without investors having to pay VAT or Capital Gains Tax.
---
PERFORMANCE
Gold's performance also far outstrips that of cash ISA saving. If you invested £1000 in an ISA in 2007 you'd have generated just £52 in interest over the past 10 years, with interest rates steadily declining. With gold, on the other hand, your £1000 of gold would now be worth more than £2,310, a 131% increase in value.
---
RESTRICTIONS
Gold also has the distinction of being without the restrictions normally placed on ISAs. They act in a similar way but without a ceiling. You can buy as much gold as you can afford, store it where you want without having to rely on unreliable banks, and see it grow in value without relying on bottom-tier ISA interest.
---
TAX
Gold is exempt from many taxes including VAT and Capital Gains Tax in the UK and the EU, making it a very tax-efficient way to invest your wealth. Gold coins are particularly desirable because they are Capital Gains Tax exempt due to their status as currency.
---
WHAT THE EXPERTS SAY
Gold, on the other hand, retains inherent value and does not have this problem – indeed, if anything gold's value rises during times of inflation, as they are usually also times of economic uncertainty. Experts suggest another equities crash is coming, making it more important than ever you make gold part of a balanced portfolio and use it as a storage medium to ensure your wealth is not reduced by inflation.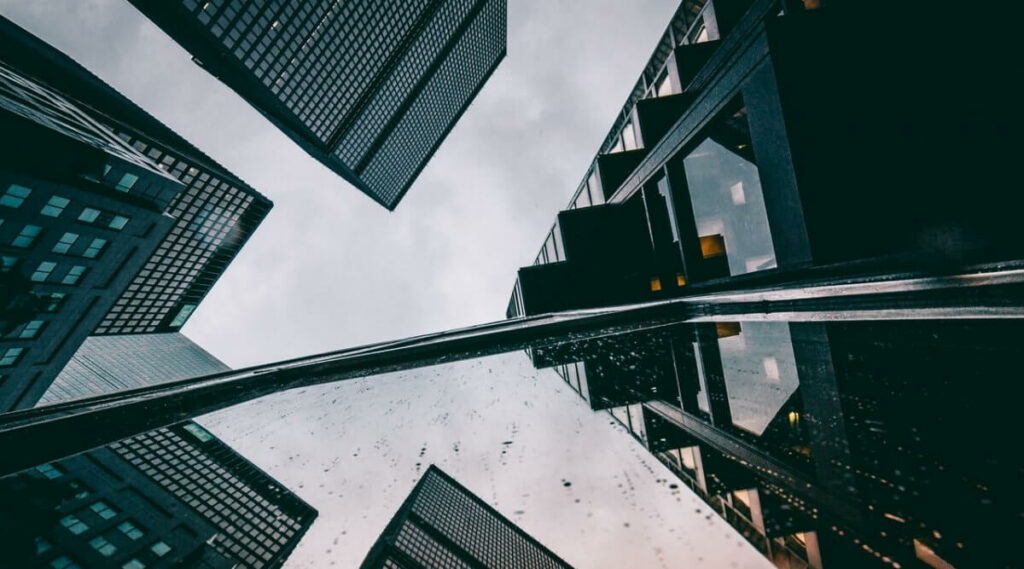 WHY GOLD?
A proven asset in times of uncertainty
Reliable value thanks to its durability, rarity and status as an investment commodity
Several banks warning of an equity crash, leading to rise in gold prices
Physical, tangible asset
Invest without restrictions
WHY ISAS?
ISAs offer fully government-sanctioned tax relief, so they are tax-efficient
Lots of consumer options
Not necessary to start with a large amount of capital
Stocks and shares ISAs exist and help small-scale investors to start investing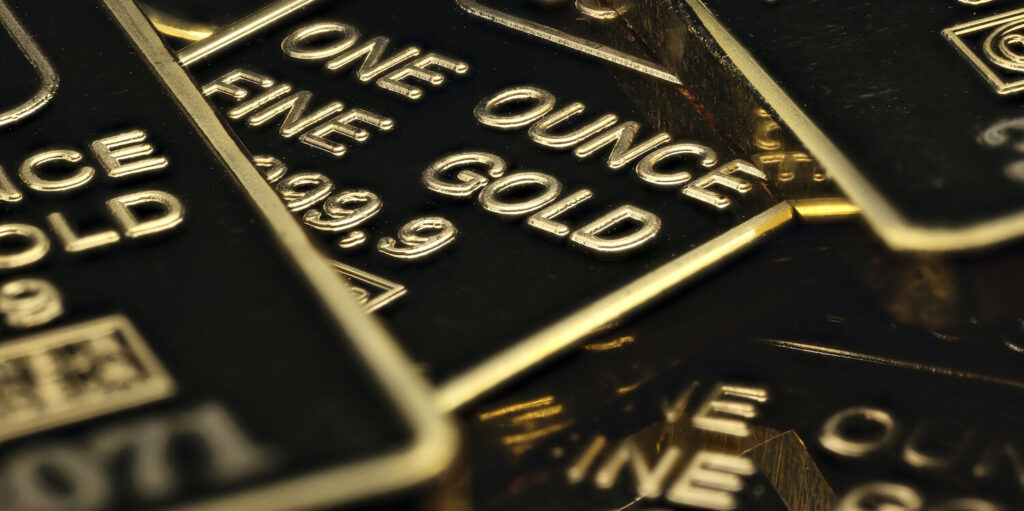 CONCLUSION: GOLD
ISAs are specifically designed to be a good way to store or invest small amounts of money, but the limits under which they are offered and the scale on which those investments operate limits their potential either as a storage medium or as a base for investment.
Gold is not only safer than an ISA, as it's not tied directly to the unstable banking system, it is more lucrative, with a return that far outstripped other assets during the last decade.
All these factors make gold a powerful asset for the future, ideal for difficult financial times and for storing wealth for the long-term. If you're looking protect your wealth against the uncertainty of the future, gold is an ideal investment.
For more information in investing in physical gold as a storage or investment medium for your wealth, contact The Pure Gold Company today or download an investor guide.
---
HOW TO BUY GOLD & SILVER
Our Simple 4-step process makes physical gold and silver buying easy.
---
Q & A
One of our dedicated specialists will work with you to answer any questions you have. We will provide you with factual information (benefits / drawbacks) of all available products. The length of this conversation is down to you and is an opportunity to ask us as many questions as possible. Please note we are not permitted to provide any financial advice. If you require advice we suggest you speak to a financial advisor.
---
PURCHASE ORDER
When you feel confident that you've had all your questions answered, you will be asked to complete a purchase order, which is your instruction to purchase metals.
---
PAYMENT
In order to lock in the price and complete your order, you must then make a payment, via bank transfer or personal cheque. We no longer accept any payments over the phone / card payments.
---
STORAGE AND DELIVERY
We can either deliver your gold directly to you, via our insured delivery service, or you can choose to have your gold safely stored, in a London Bullion Market Association (LBMA) vault, where your physical metals are allocated in your name and with full insurance provided.
GET STARTED
WHY US
Reputable & fully accredited
Buy-back guarantee
Fully certified metal
Free delivery or storage
Customer focussed
No hidden charges
5* independent reviews
Read more >
---
---
CHARLES CAMPLING – POLICE OFFICER – SURREY POLICE SERVICE
I decided to make my first tentative steps into investment in gold with the help of The Pure Gold Company due to the good reputation they have dealing with the less experienced investor such as myself. I feel their reputation is well deserved. I was kept informed, anything I didn't understand was explained well. I have no reservations in recommending The Pure Gold Company to those looking to buy gold or silver.
---
SIR GEOFFREY LEIGH – PROPERTY ENTREPRENEUR
I found The Pure Gold Company knowledgeable and trustworthy and in my opinion wouldn't hesitate to recommend them
---
ANNABEL BARTFELD – AMBASSADOR FOR GREAT ORMOND STREET HOSPITAL
These guys were patient and seemed to understand my situation well. They weren't pushy or salesy and gave me all the facts so that I could make my own decision. I was surprised at how straightforward they made the process and would certainly recommend The Pure Gold Company to anyone looking to buy gold or silver
---
OLIVER SHIPTON – PARTNER AT LEE & THOMPSON LLP
Having thoroughly researched the gold investment market I found The Pure Gold Company. They were knowledgeable, transparent and kept it all very simple. My gold arrived the next day and I'm now discussing options for silver storage. I wouldn't hesitate in recommending them…
---
RACHELINE NATALIE MICHAELS – DIRECTOR, HEXAGON OF HIGHGATE LTD
A friend recommended The Pure Gold Company, as they have a reputation of assisting beginners, they were fantastic. They explained in detail how it all works and what options would best suit our circumstances. They guided us on timing and saved us 6% by waiting a couple of weeks
---
---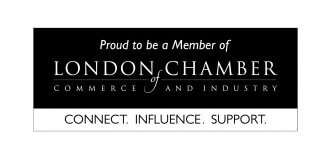 ---

---