---
The Pure Gold Company has gathered the numbers and they are clear: gold outperformed all other asset classes in the last decade, despite being known primarily as a "safe haven" investment.
GOLD VS ALL ASSETS
This graph plots gold against other assets, based on an average return on invest from £100k invested in 2006.
Also on the graph is inflation. £100k invested in 2006 needs to have the same purchasing power as £130k today, due to inflation devaluing currency. This means that any return of less than £130k on a £100k investment is actually a fall in absolute value.
GOLD: £100k invested in gold in 2006 grew to £286k a decade later, far outperforming inflation and all other assets
PROPERTY: £100k invested in property nets £117k, under-performing inflation by £13k
FTSE: A £100k investment in the FTSE 100 ends on £167k, £119 below gold
BONDS: Bonds track inflation, so no gain in absolute value at all
SAVINGS: Savings see a very small rise due to interest, but represent a fall in absolute value
When demonstrated like this gold's power as an investment medium is clear. And with global uncertainty continuing on its current trend, the outlook for gold continues to be very strong.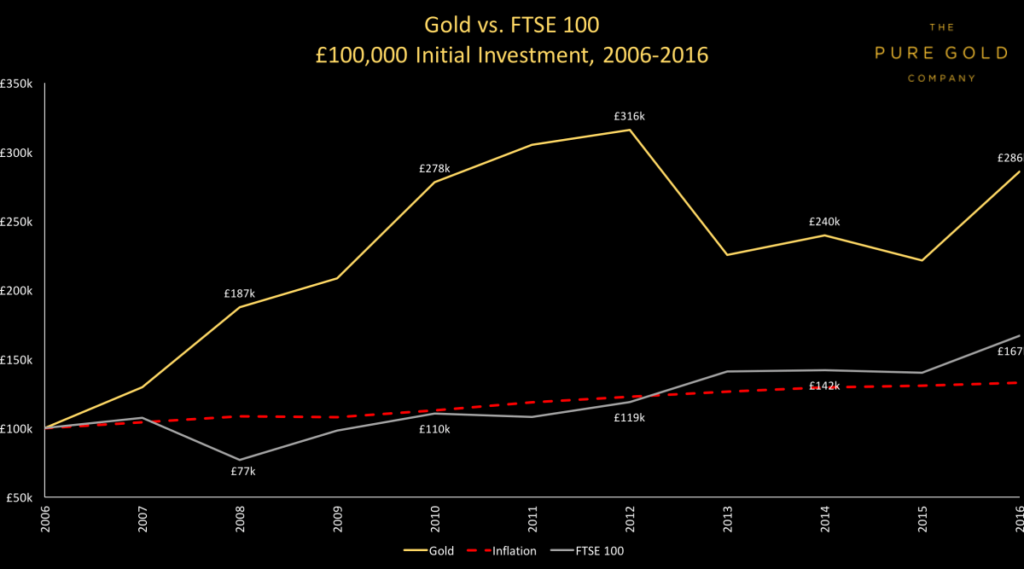 GOLD VS FTSE 100
The graph above shows an investment in gold of £100k in 2006 plotted against the same investment in the FTSE 100, a collection of the largest companies on the London Stock Exchange. Inflation is also shown. At the end of the decade:
A £100k investment in gold returns £286k
A £100k investment in the FTSE 100 finishes at £167k
The crash of 2008 is seen clearly. It takes several years before the FTSE 100 begins to outperform inflation and start to recover. Even once recovered a gold investment is still is still worth £119k more at the end of the decade.
While in 2016 the FTSE 100 ended well, events such as the 2008 crash are not out of the ordinary. Banks including MS, Citigroup and HSBC are predicting a similar equities crash in the coming years, and with Brexit negations proving even more chaotic than expected, there's no telling how the UK stock market will perform in the next decade.
Between 2007 and 2010 gold surged while the stock market weakly recovered after its crash. It is this pattern that makes gold a compelling investment while even the world's most successful companies are struggling.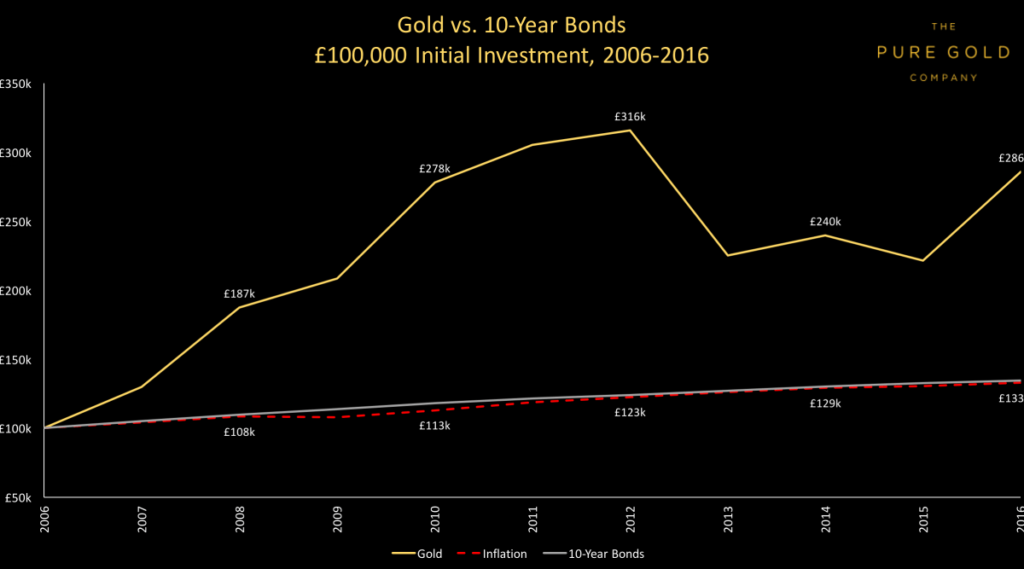 GOLD VS 10 AND 20 YEAR BONDS
The graph above shows gold compared to 10- and 20-year government bonds, based on a £100k investment in 2006. Inflation is also shown on the graph, to demonstrate the amount of growth needed to increase the actual value of the initial investment.
A £100k investment in gold finishes at £286k
A £100k investment in bonds tracks inflation, so would not have increased the value of your portfolio
10 and 20 year bonds are a well-known option for longer term investment. They are valued as they provide income above that of savings, from interest paid out regularly to investors. In terms of wealth protection they are far less risky than equities. But the gulf between their returns and gold's are obvious.
Bonds remain tied to unstable government banking systems and are affected by the global economy. Even governments can default on loan repayments during a crisis. This was seen during Greece's financial meltdown: when yields soared to unsustainable levels, bond holders lost out.
GOLD VS PROPERTY
The graph above compares a £100k investment in gold in 2006, and the same investment in property. Also on the graph is inflation. In order to actually increase spending power, a £100k initial investment would have to return £130k. As you can see:
A £100k investment in gold returns £286k
A £100k investment in property returns £117k, under-performing inflation by £13k
Since Brexit the UK property market has become increasingly unpredictable and many people are starting to lose out. The bubble caused by the super-rich in London looks ready to burst at any moment.
Many economists fear that rising UK interest rates may result in a debt explosion where people living on cheap debt can no longer pay for their mortgages, resulting in a run on the property markets as many people sell up and a massive slip in property value.
Bank of England stress-test simulations allow for a 30% fall in the value of property, but some experts believe this is conservative.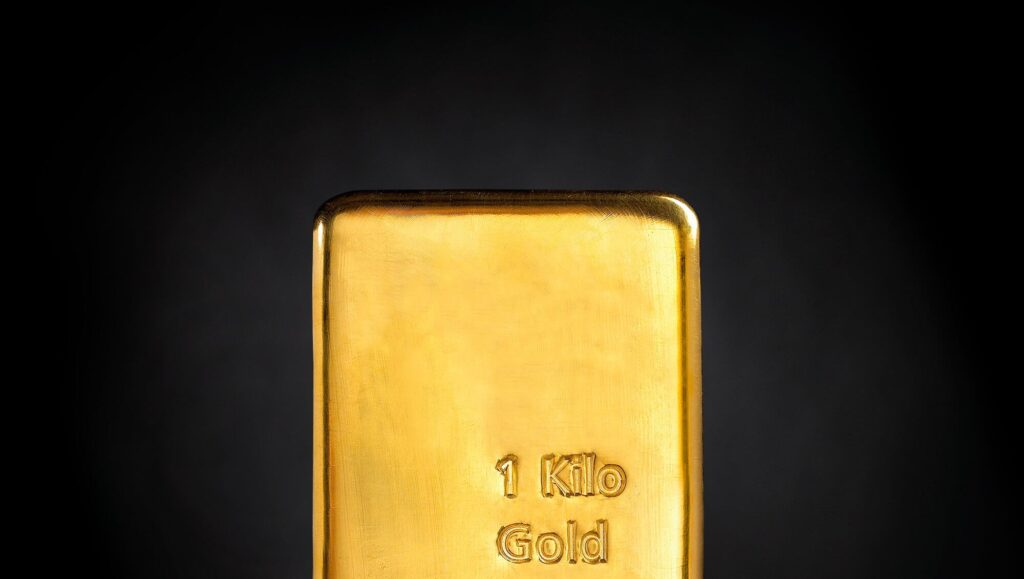 INVEST IN GOLD WITH THE PURE GOLD COMPANY
The Pure Gold Company recommends gold for a variety of reasons:
Consistent value thanks to its rarity
A proven asset in times of uncertainty and crisis
A physical, tangible asset not directly controlled by banks or governments
For more information on investing in physical gold to preserve your wealth, contact The Pure Gold Company today and speak to one of our advisers. We will be on hand to guide you to the best method of gold investment, given your individual needs.
---
HOW TO BUY GOLD & SILVER
Our Simple 4-step process makes physical gold and silver buying easy.
---
Q & A
One of our dedicated specialists will work with you to answer any questions you have. We will provide you with factual information (benefits / drawbacks) of all available products. The length of this conversation is down to you and is an opportunity to ask us as many questions as possible. Please note we are not permitted to provide any financial advice. If you require advice we suggest you speak to a financial advisor.
---
PURCHASE ORDER
When you feel confident that you've had all your questions answered, you will be asked to complete a purchase order, which is your instruction to purchase metals.
---
PAYMENT
In order to lock in the price and complete your order, you must then make a payment, via bank transfer or personal cheque. We no longer accept any payments over the phone / card payments.
---
STORAGE AND DELIVERY
We can either deliver your gold directly to you, via our insured delivery service, or you can choose to have your gold safely stored, in a London Bullion Market Association (LBMA) vault, where your physical metals are allocated in your name and with full insurance provided.
GET STARTED
WHY US
Reputable & fully accredited
Buy-back guarantee
Fully certified metal
Free delivery or storage
Customer focussed
No hidden charges
5* independent reviews
Read more >